Broaden A New Sound is proud to present: #CHOWJOZI a Johannesburg city residency with Cómeme ft Matias Aguayo, Rude Boyz, DJ Spoko & more!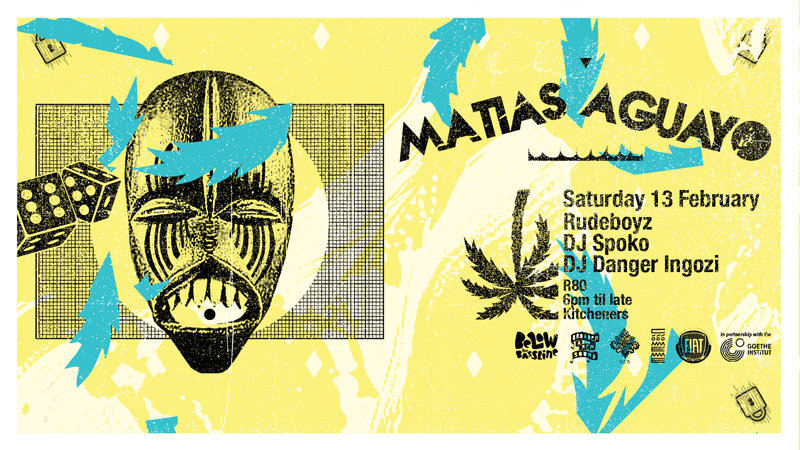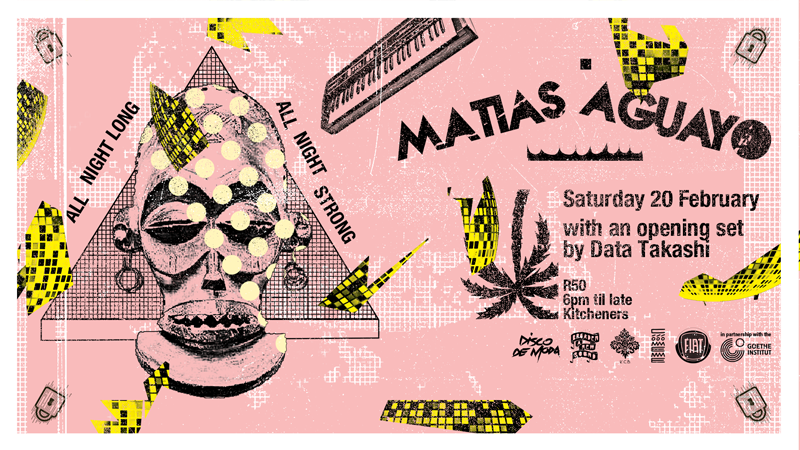 Braamfontein's premier underground club campaign Broaden A New Sound welcomes Matias Aguayo back to the golden city following his successful 2015 tour across SA.
For his triumphant return, the offbeat prince of dark tropicalia will join forces with some of the brightest stars on Africa's edge – gqom originators and luminaries, the internationally acclaimed RudeBoyz, as well as Bacardi house pioneer and evil beatsmith, DJ Spoko.
On Saturday 13 February, join Johannesburg's illest at the iconic Kitchener's in Braamfontein for a full night of nasty percussions popping on our pristine Martin Audio system on the city's warmest dance floor.
Featuring Matias Aguayo, DJ Spoko & RudeBoyz with support from Kitchener's resident and bass scene icon, DJ Danger Ingozi.
On Saturday 20 February, we return to Kitchener's to live our dreams with a 7.5 hour marathon set from Matias Aguayo flexing all night long, all night strong on the dance floor he has come to consider home.
As well as these flamesy club nights, Matias Aguayo will be in residence at POST POST Studios, courtesy of Tshepang Ramoba of BLK JKS's fame. Here he will pursue an existing collaborative project with DJ Spoko which kicked off in Braamfontein in February 2015 and has since seen the two connect in London, completing work on an EP set for release later in 2016. Aguayo will also team up with the young figureheads of the Durban-based Gqom movement, RudeBoyz, for what will surely become a seminal moment in club music history.
As well as this musical genius, Aguayo's Cómeme team will engage Johannesburg's artistic community with the aim of sharing skills and driving economic growth to strengthen our local scene in the face of the dangerous, suffocating culture of export and appropriation.
The multinational Radio Cómeme platform guided by Avril Ceballos will record shows with local partners, including Rude Boyz on a quest to self-document gqom culture, music journalist Charles Leonard looking back into local music history, and performance art duo and cultural activists FAKA welcoming the world into their unique perspective.
Check out the shows recorded in 2015 in Johannesburg here:

Veneno: Joburg Special Part I by Matias Aguayo – "Spleef Mczaul presents The Real Kwaaito" by Radio Cómeme on Mixcloud
Radio Cómeme: Veneno, Aguayo Joburg Special Part II with Felix Laband and Mpumi Mcata from BLK JKS by Radio Cómeme on Mixcloud
Rachel Graham of Passé Publishing and Passé Projects, Aguayo's management, will engage in a series of one-to-one mentorships with members of the musical community with the aim of ensuring protection of rights and wise monetisation of creativity. She will also give a series of free lectures sharing her expertise with youth at Boston College campuses (other public lectures tbc).
With a spirit of sharing, enabling and coming together over a love of rhythm and dance, we look forward to #CHOWJOZI.
This project is presented in partnership with the Goethe-Institut and with support from Fiat and Curiocity Backpackers.
R.S.V.P. – 13 February @ Kitcheners – Below The Bassline: Matias Aguayo, Rudeboyz, DJ Spoko and DJ Danger Ingozi
R.S.V.P. – 20 February @ Kitcheners – Disco De Moda: Matias Aguayo (All Night Long, All Night Strong!) with opening set by DDM resident Data Takashi