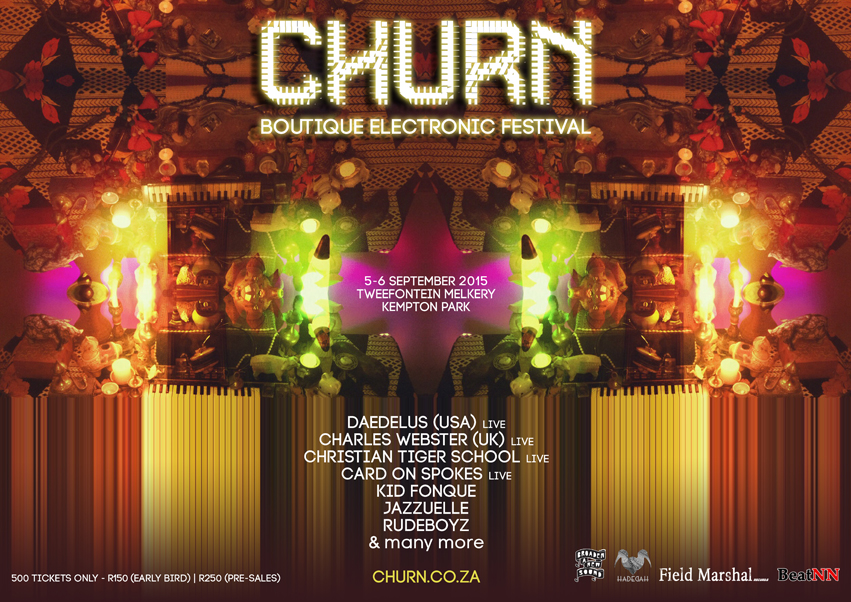 After the incredible 2013 debut featuring Dirty Parraffin and Felix Laband, Jolburg's original independent one-night mini festival returns to Die Melkery, Kempton Park.
30 minutes east of Braamfontein, the brains and booty behind Kitchener's (Broaden A New Sound and Field Marshal Records' Andrew The DJ) in collaboration with Braamfontein Wednesday night favourites BeatNN and experimental event curators Hadedah present 28 hours of non-stop gob-smacking crispy-fresh electronic music.
The music comes first at Churn and we've unhinged our jaws to spit a jammy-packed line up of our favourite cutting edge live electronic acts and DJs.
Live performances take centre stage with our headliner Daedelus, a god-daddy of the renowned LA beat scene with his sample-heavy glitched-out crunch-step, all constructed live and direct before your eyes. Enjoy a new take on the endlessly perfect sound of South African house with UK's Charles Webster debuting a three-piece live band. Add in Hadedah's stable of improvised electronica, the instrument-swapping beat fiends of Cape Town's hottest exports Christian Tiger School and Card on Spokes, and the Field Marshal Records roster of original electronic producers, and that's ten live acts reclaiming the forward-thinking potential of electronic music.
Not to shade the selectors taking dance floors to new levels, we are especially proud to continue our Kitchener's-based trend of Gauteng debuts with Rudeboyz joining the late night line up to flex those hidden muscles that the Durban-bred sound of Gqom has been popping up all over our bodies. Your standard flex with Kitchener's resident DJ Danger Ingozi get an festival-sized make over. International favourite Jazzuelle closes us down with a special set of future-tribal deep house.
"A Boutique Beats Experience"
Unlike the chaos of bigger festivals, Churn is a boutique beats experience. Tickets are strictly limited to 500. Our line up is distilled to a single, perfectly curated shaded outdoor stage that will run from 11am on Saturday to 4pm on Sunday without giving our 5-star sound system a break.
Visual madness on site and on stage comes from festival veterans Hadedah in collaboration with the team, including award-winning young artist and BeatNN affiliate, Chrisantha Chetty. We're crushing Kempton Park through the looking glass in praise of all things east and off-beat. Let your inner deity dance as we dangle our toes in the twisted tide of East Rand electric esoterica.
Expect the unexpected. Embrace your discomfort zone. Your new favourite song. Your new favourite feeling. Join us in leaving the city behind for one hot night of elevation. We are here to lift your body. Your heart will follow. Churn those hips. Get the cream. Spread the butter.
More info about the festival, line-up, etc. available on the Churn website.